Founder Desk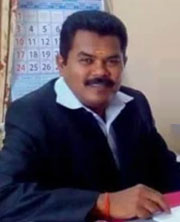 Mr.V.Muthumani
Watch Our Video
About Balafoi International
Balafoi International is one of the leading intenting agency for the textile industry located on Madurai, Tamilnadu. For the past 8 years our firm is committed to source and supply the products exceedingly high standards of quality and timely delivery.
Balafoi International founder Mr.V.Muthu mani , who is well known personality, rich in experience and a philanthropist. He believes that quality , precision and dedicated workforce can deliver best of products in the world and ensures everbody works towards that.
Balafoi is have been constantly engaged in procuring and sourcing a qualitative range of products leveraging on our advanced technical facility. Our clients count on us because we work in accordance with the following fundamentals:
Well processed cotton products
Outstanding quality control concepts
Competitive pricing
On-time delivery assurance
Assured customer satisfaction.
Few important application areas of our Textile products and allied items are:
Textile Spinning Industry
Textile Knitting industry
Textile Weaving industry
Textile Garment industry
Home furnishing industry
Vision & Mission
In view of stringent market needs Balafoi committed to satisfy the customers by ensuring the Product quality, Process quality, Packing and Package quality through its technical team with an uncompromising committements towards all above needs.
We have reached the fruitful success through our sheer dedication and involvement in our activities. Our sincere and loyal concern for guarented customer satisfaction keeps us hooked to basic business ethics.
Balafoi technical experts keenly monitoring stringent quality control measures are followed in each produciton stages and Our technical team vigilant in all stages from the rawmaterials and also that are connected with activities like process, end product inspection, packaging, stuffing and delivery. We have also adopted a strict quality policy in confirmation to international ecological standards.